There's something about Malibu that makes you want to move, be active, and stay on your toes. Maybe it's the cloudless blue sky, the flower-covered hiking trails, or the sparkling ocean beckoning, but one thing is certain– all of these picturesque attractions promise adventure for those who enjoy getting outdoors.
The people of Malibu, locals and visitors alike, know better than to let the variety of terrains and scenic beauty go to waste. Spend a day in Malibu and you will notice surfers, rock climbers, runners, bikers, open-water swimmers, paddle-boarders, hikers, yogis and more on a given day; these are only some options of many possible Malibu workouts. The possibilities for exciting experiences are endless. One thing that makes Malibu so special is that it is essentially one big playground, waiting to be explored. However, there are many other ways to keep moving and to get in shape before jumping into high-intensity activities.
Malibu locals take their physical activity seriously, whether they do it for fitness, the feel-good endorphins, or the adrenaline. No matter what you want to get out of being active, there is some kind of Malibu workout for everyone. When you are not playing in the mountains or the ocean, you can connect to your spiritual side in a yoga class or challenge your body and mind with pilates. Malibu fitness and wellness studios are constantly offering classes to help residents better themselves from SoulCycle to Pure Barre. A studio that are beloved by locals, Pepperdine students, celebrities and visitors who want to retreat to the oasis that is Malibu is Good Point Pilates.  This studio is located in the picturesque Point Dume Village on the second floor.
Good Point Pilates is where you want to be. You still get a taste of yoga techniques, but they are intertwined with traditional Pilates, strength training to keep you toned, as well as rehabilitation training to ensure a healthy body. The best part is that if you attend more than one workout at Good Point Pilates, you will find that the workouts vary every single day. This is so that clients don't get sick of their workout and get burnt out, but it is also because your body needs a variation of exercises to really see results. Essentially, you're getting the ideal Malibu workout (besides surfing).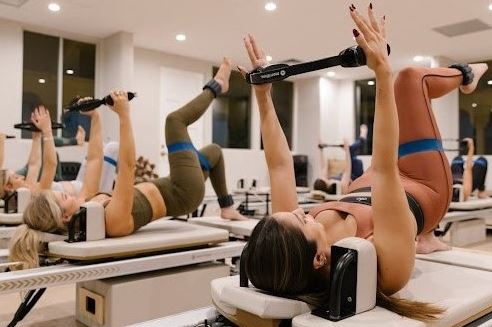 Good Point Pilates offers both group sessions as well as private appointments. This is perfect for those who don't enjoy working out in a large class or gym, either because they are too crowded or because of anxiety about not knowing what to do. At Good Point Pilates, you are given the exact direction you need to have a safe and effective workout, thanks to the skills of Randi Graves and her team of amazing instructors.
This Malibu workout studio come highly recommended from the residents of Point Dume and Northwest Malibu. Aside from the workouts themselves, the studio is located in an ideal area. They are less than five minutes from Zuma Beach, one of the most noteworthy beaches in Malibu for its long stretch of pristine views. Many head straight to the beach from a workout and dive right into the water.
Good Point Pilates is also both surrounded by restaurants and shops also located in the Point Dume Village. Depending on what time of day you attend a Malibu workout class in Point Dume, there is always somewhere to grab a snack and replenish your energy after class. Thaia opens at 4:30pm for dinner and doesn't close until 9pm, but has one of the best happy hours in all of Malibu. Lily's Cafe boasts the most famous breakfast burrito in all of Malibu, Le Cafe de la Plage has great vegan options extending to coffee, ice cream, and food, and D'Amores is the perfect spot to reward yourself with a mouth-watering pizza after a workout.
Give a Good Point Pilates workout a shot, followed by a delicious meal at one of Malibu's finest restaurants, and we guarantee you'll be hooked!